English stories
VIDEOS - Nathan is helping out the Food Bank again
vendredi le 03 décembre 2021
Modifié à 13 h 06 min le 03 décembre 2021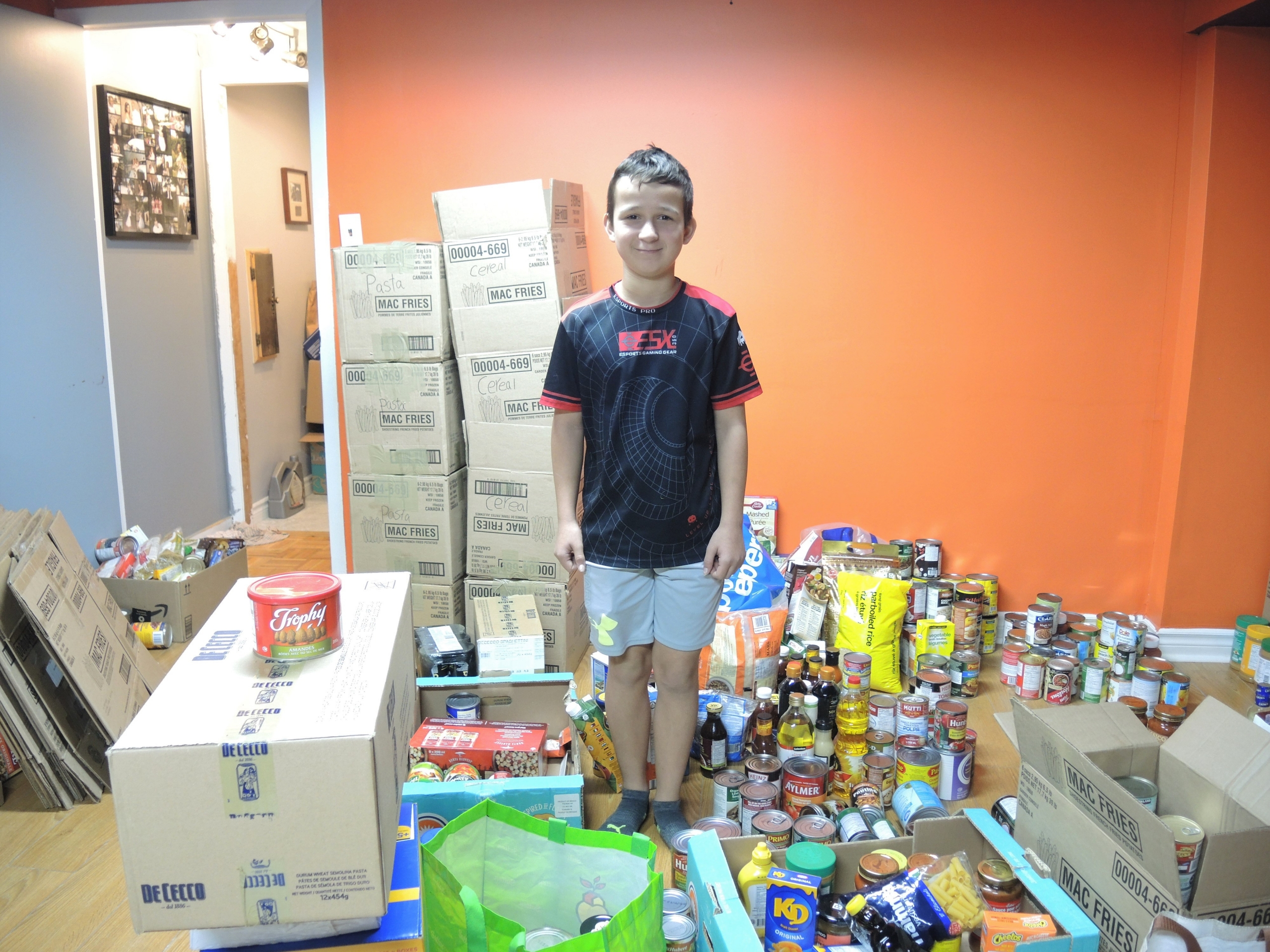 Organizing a food drive is never an easy thing. Even less so when you're 12 years old and feel like relaxing after school. But Nathan Leduc-Lavigne, who is collecting donations for the Châteauguay Food Bank for a second consecutive year, is thinking about those who are hungry.
Translation by Amanda Bennett
"It brings happiness, it brings joy to people who are less fortunate than us," stated the boy who admitted to being a little tired at the end of a month of collections.
With the help of his family, Nathan has been collecting non-perishable food and monetary donations for the Food Bank since November 1st. When he receives monetary donations, Nathan buys the items himself unless he is asked to give the money directly to the organization.
"We think it's helpful because [the Food Bank] really needs food right now, near Christmas especially," he said.
To reach out to people in the community his mother, Tanya Morlock, publishes Facebook posts of Nathan with the donations he has collected. The family also organizes half and half raffles.
"I'm very proud of what he's accomplished," said Morlock.
The boy got the idea of supporting the Food Bank last year as he was preparing his application for a high school. He was asked what he would do to help his community. At the time, demand at food banks had significantly increased due to job losses related to the pandemic.
In 2020, with the help of his family, Nathan collected 92 boxes of food, 42 packages of toilet paper, 24 packages of paper towels and $1,500 in monetary donations, the Food Bank explained in a Facebook post.
This year, the family received 65 boxes of food, 72 boxes of paper products from the Cascades company as well as over $1,000 in monetary donations as of their last week collections which ends this Friday, December 3rd.
Growing Demand
The Châteauguay Food Bank appreciates Nathan's efforts. The pandemic has led to an ever-increasing demand, explained Marcia McInnis, the organization's president.
"We didn't have quite the turnout that we normally do at our annual drive, so we are down compared to this time last year, and the demand has gone up a little bit," she said. "Having donations like this from Nathan really, really helps us replenish what we need."
Prior to the pandemic, the organization would collect some 500 boxes of non-perishables during its annual campaign. In 2020, it was just over 300 boxes. This year they received 237.