English stories
350th anniversary of Châteauguay : he wrote a children's book
le vendredi 26 mai 2023
Modifié à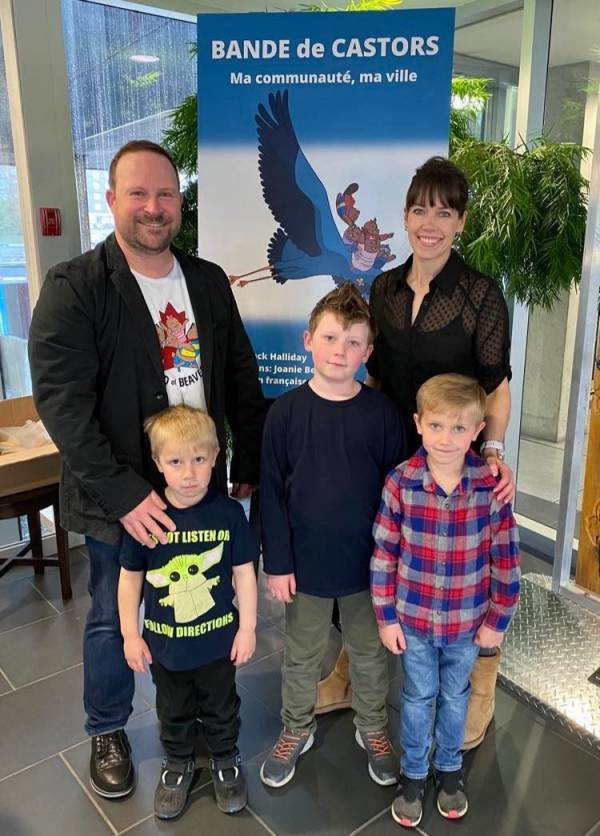 Chuck Halliday, a father and resident of Châteauguay, has written a children's book entitled My Community, My Hometown as part of the city's 350th anniversary celebrations. The book is a short stroll through the municipality's points of interest.
Translation Amanda Bennett
"As part of Châteauguay's 350th anniversary celebrations, I saw that the town had launched a call for projects by local artists. Even though I'm not a professional, I decided to propose a story with my little characters, and it worked!
According to the author, My Community, My Hometown is a tribute to Châteauguay's historic sites and community spirit. Over 25 pages, we can follow the band of beavers on a stroll around Île Saint-Bernard, on the river or in front of city hall. There are also references to the city's sports teams and parades.
Daring to Write
For the Châteauguay resident, writing books began in the midst of the Covid-19 pandemic, with a sort of diary at a time when morale was not always high. It had a cathartic effect on him.
I wrote my first, more personal, book at that time for my own mental health," explained the man who works for the New Frontiers School Board. It was a way of decompressing and daring to do something different.
Children's Literature
Some time after the publication of this first story, his three young boys asked him if he could write a book for younger children. Halliday didn't think he could write anything else, so he accepted the challenge and self-published a series of little books called Band of Beavers, which follow the adventures of a band of beavers and their friends. With the help of his children and his niece for the drawings, the series now has six opuses translated into English and French.
For Mr. Halliday, creating these stories brings him great joy. "I don't really make any money from it, but it's so much fun! You can't be afraid to try something new and see where it takes you," he said with conviction.
Books in the collection can be found at the Raymond-Laberge library in Châteauguay, at www.bandofbeavers.ca or on Amazon.