English stories
Nathalie Langevin forged strong bonds between the police and the community
lundi le 20 décembre 2021
Modifié à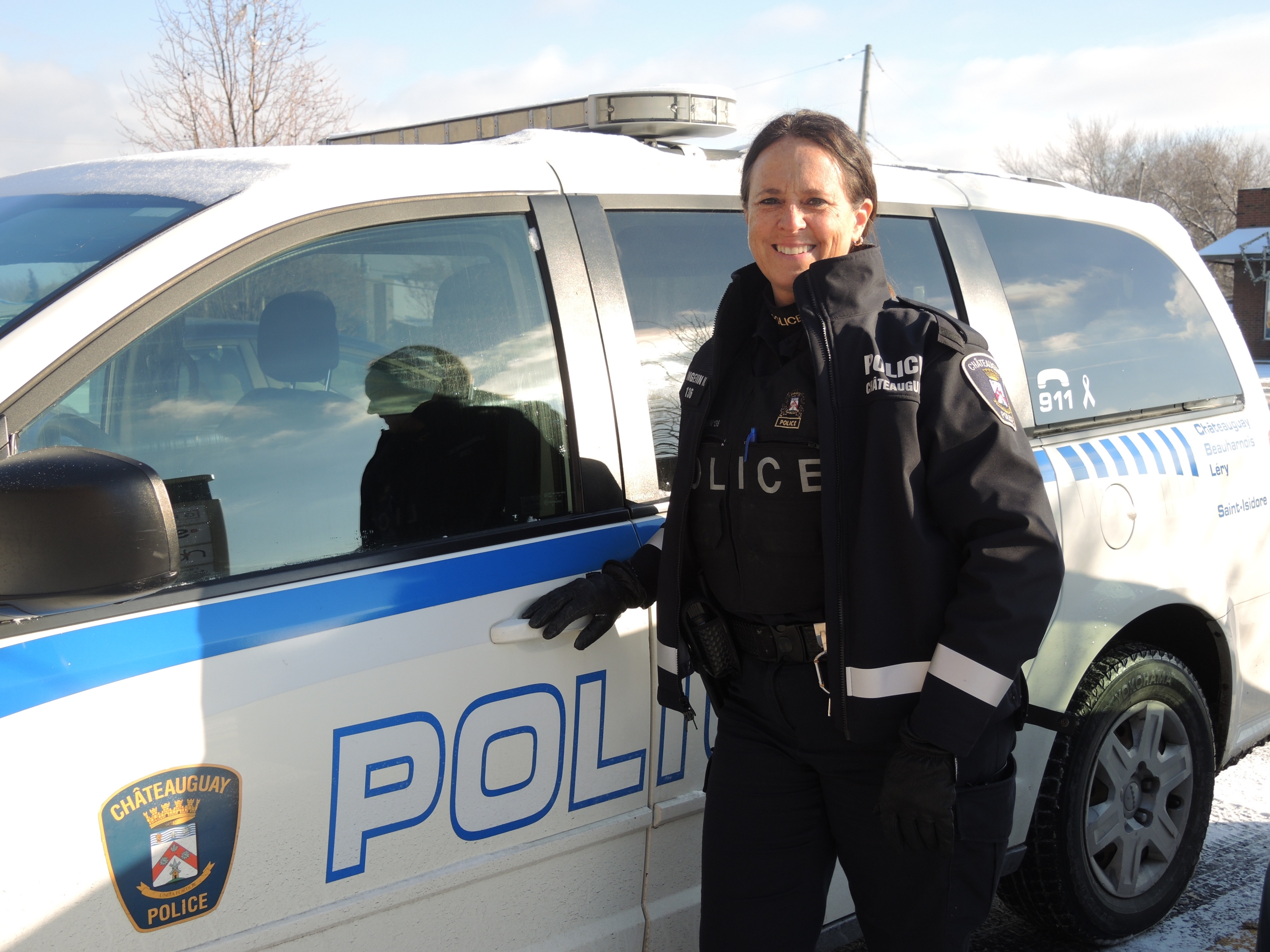 After 30 years of service within the Châteauguay Police Department, Nathalie Langevin will be hanging up her uniform and retiring at the end of December. A firm believer in the power of collaboration, Officer Langevin built the department's community relations sector by forging ties within the community and institutional sectors, an approach that may have been considered avant-garde at the time, but is still just as relevant today.
Translation Amanda Bennett
Nathalie Langevin began her career on patrol, like any good police officer. Even back then she observed that there were limits to what she could do when she intervened in the field. Police are often on the front lines of matters related to sexual violence, abuse or mental health. "I couldn't understand why we would intervene in a given situation and then leave without having reached out with resources or referrals for domestic violence, mental health or seniors' support," she explained, noting that there are several resources for those types of situations in Châteauguay and the surrounding areas.
In 2006, a position became available within the Châteauguay Police Department; that of Community Relations Officer, whose mandate was forging ties within the community and prevention work. The challenge was of interest to her as she believed that she was already working closely with the community.
As she undertook this new mission, she built everything from the ground up as the role did not previously exist. She remarked that she felt intimidated when she became part of the provincial network of prevention workers where major policing bodies such as the Sûreté du Québec as well as the Montreal and Longueuil police departments were represented.
Being part of the safety net
Today, the Châteauguay Police Department's Community Relations sector is composed of three officers and a sergeant. They are part of various community round tables for issues related to youth, sexual violence, abuse and mental health. Patrollers inform their colleagues about what they are observing in the field and the community relations sector becomes involved to ensure follow-ups with various psychosocial workers.
The community relations team is also responsible for media relations.
Recipient of the Medal of the National Assembly
The proof that Nathalie Langevin has established a large network in the sector is that a significant number of organizations gathered together in Châteauguay this fall for a surprise tribute to her. She also received the Medal of the National Assembly during that event. "The fact that we are all here today is a testament to the positive impact that you have had on the community and that is just priceless," expressed Philippe Renaud, Political Attaché to Châteauguay MNA MarieChantal Chassé as the medal was awarded.
Officer Langevin's boss Inspector Ginette Séguin, saluted the passion that she has invested in her work. "You were a pioneer, from the beginning, just as a female police officer. Imagine when she wanted to do community policing and become part of the community component," illustrated Ms. Séguin.
Nathalie Langevin is leaving the police department with the feeling of a job well done, confident in the work that the next generation of police officers will continue to do as they are better trained to intervene in psychosocial matters.
"I often tell new patrollers that they will deal with mental health cases far more frequently than they will arrest criminals", she said of the new realities of policing.
For Ms. Langevin what is most important is that the safety net made up of police as well as community and institutional sectors continues to remain strong for vulnerable clienteles.