Élections provinciales 2022
English stories
VIDEO - Marie-Belle Gendron elected in Châteauguay
le mardi 04 octobre 2022
Modifié à 10 h 21 min le 05 octobre 2022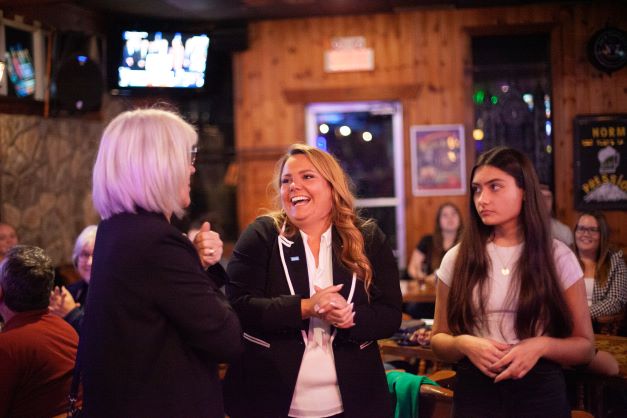 The riding of Châteauguay remains in the fold of Coalition avenir Québec (CAQ). Voters gave a mandate to candidate Marie-Belle Gendron on Monday, October 3rd.
Translation Paula Dayan-Perez
The then president of the Grand Roussillon Chamber of Commerce's board of directors won 39.12% of the votes while the Liberal candidate, Jean-François Primeau, followed with 24.7% of the votes. Gendron succeeds former CAQ MNA MarieChantal Chassé who had decided to retire from politics.
Québec solidaire candidate Martin Bécotte won 12.7% of the votes, followed closely by Parti Québécois candidate Marianne Lafleur with 11.8%.
The Quebec Conservative Party made gains in the riding compared to 2018. In the last election, the party received 458 votes. This year, candidate Patric Viau received 3,363 votes (10%).
Marie-Belle Gendron was voluble and cheerful just after her victory at brasserie Lafontaine.
"I obviously didn't want to take anything for granted. I worked very hard, I went to meet people, because that's the most important thing about being an MNA, it's listening to people and it was clear it was going to be my priority during my campaign," she commented.
She also had good things to say about the Liberal and QS candidates. "I am very happy. I know Martin, Jean-François and the others. They led great campaigns so I'm definitely thinking of them at the moment, of their team... but of course I also want to enjoy the present moment, it's exciting!"
Liberal candidate Jean-François Primeau said he was satisfied with the campaign he led. "I think people appreciated what we did, but the people of Châteauguay gave their verdict, they wanted to continue with the Coalition avenir Québec. Of course, we'll respect that. Congratulations to Ms. Gendron. I wish her good luck. I think her challenge will be to bring people together," he said. He also praised Bécotte's campaign.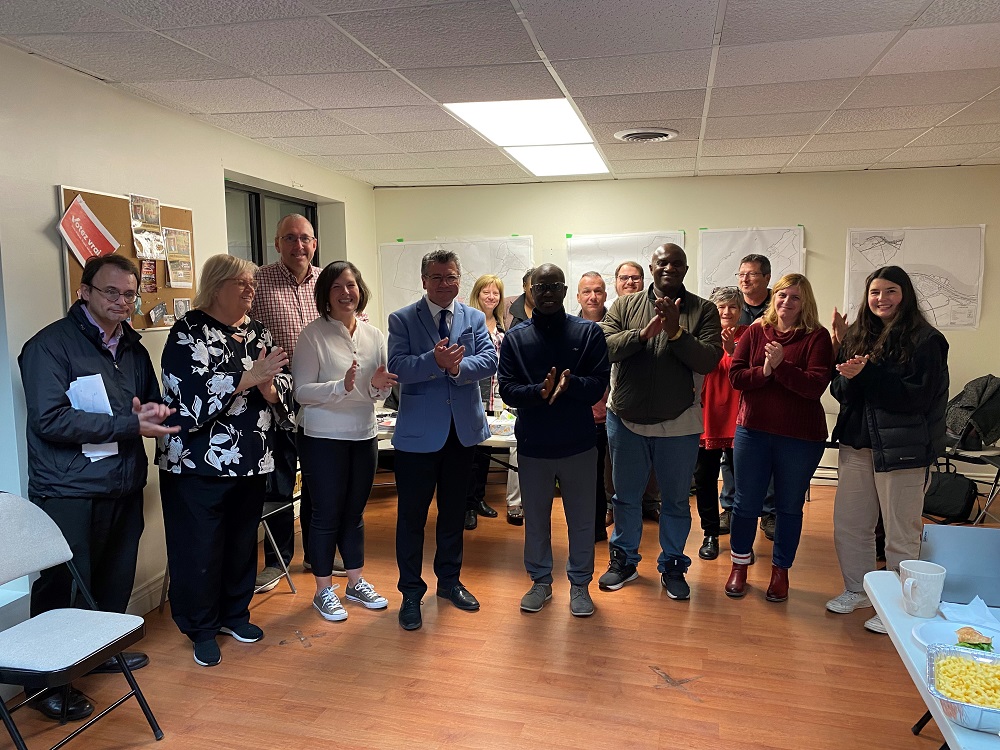 Jean-François Primeau commends his volunteers for their work. The group gathered at the Liberal office on boul. Saint-Jean Baptiste on election night. (Photo : Le Soleil - Paula Dayan-Perez)
The CAQ in Beauharnois and Huntingdon
In Beauharnois, CAQ MNA Claude Reid was re-elected with 54% of the votes, followed by the Parti Québécois with 17%. The Huntingdon riding also remains in the fold of the Coalition avenir Québec. This time, it will be represented by Carole Mallette, who won with 43.7% ahead of the Liberal Party.