English stories
VIDEO-Abortion: activists demonstrate in front of local organization
le jeudi 29 septembre 2022
Modifié à 21 h 27 min le 04 octobre 2022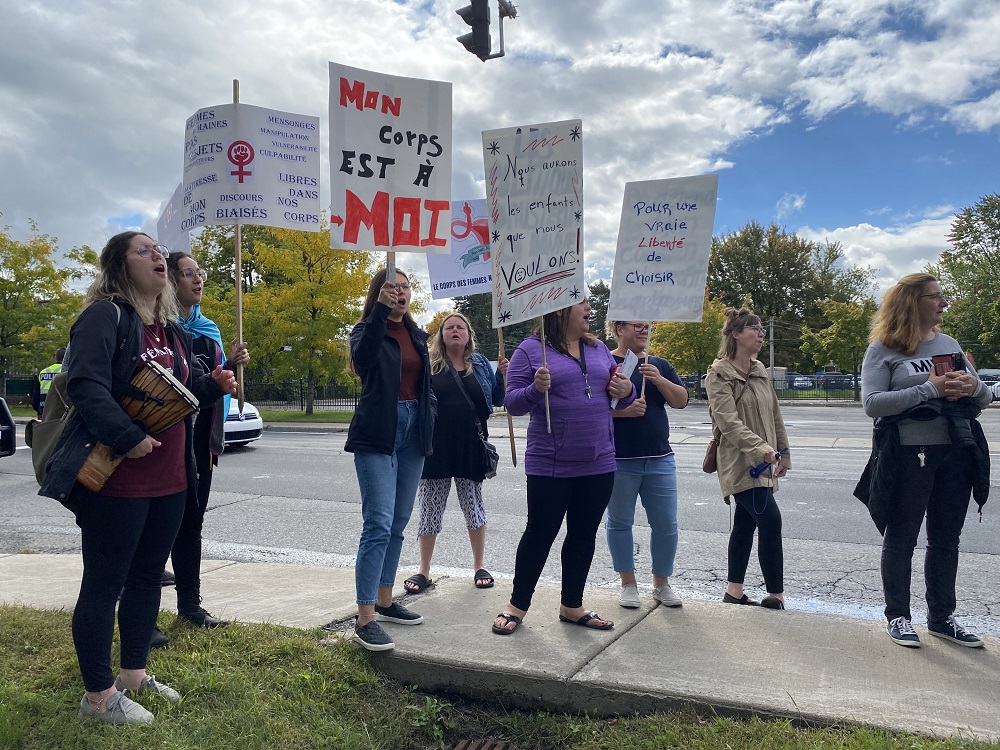 On International Safe Abortion Day, September 28th, about forty pro-choice activists marched in Châteauguay to denounce Options pregnancy centre's practices, which they say does not take a neutral approach to abortion. For its part, the organization denies these allegations.
The demonstrators gathered at the Quartier des Femmes' parking lot, a feminist organization located on Principale street, before heading to the Options Center' premises on D'Anjou boulevard. Protesters said that the group, which is based on the Christian faith, does not really offer all the options when it comes to an unplanned pregnancy, contrary to what it claims.
Gabrielle Juneau, Quartier des Femmes general manager, said that young women have told her about the questionable practices carried out at Options. She said the women turned to Quartier des Femmes after having bad experiences at the Options Center.
Catherine Caza, a member of the Comité Femmes Vigilantes, read one of those testimonies at the protest while maintaining the author's anonymity.
"The option to terminate the pregnancy was never mentioned to me nor explained to me straight away by the woman who saw me [at Options]. When I mentioned this possibility, I was told that if I wanted to end my pregnancy, I could no longer benefit from their services, because they would do nothing when it comes to a voluntary termination of pregnancy. The woman who saw me also began to talk about several risks related to the voluntary termination of pregnancy on my sexual health and my body."
According to the testimony, the Options employee also called her several times after the first meeting "to discuss the continuation of her pregnancy", which the client refused each time.
Options defends itself
When the protesters gathered in front of Options' headquarters, the organization's communications director, Suzy McVeigh DiBiaso, came out to meet them. She maintained that the Center presents to young women all the choices concerning an unplanned pregnancy in a neutral way.
A few activists talked with McVeigh DiBiaso but others continued to demonstrate. In an interview with Le Soleil de Châteauguay, McVeigh DiBiaso said she lamented the protesters' lack of interest in listening.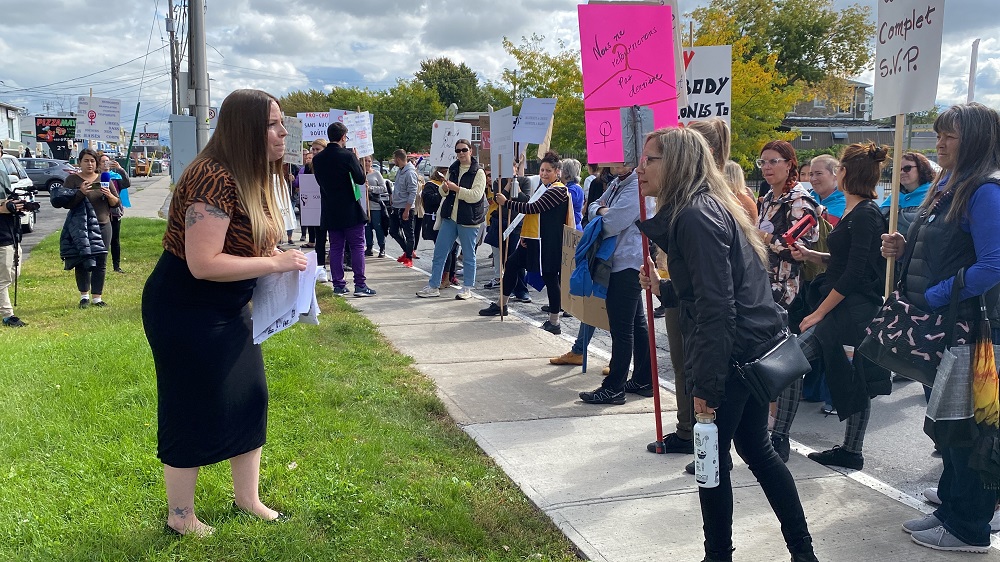 Suzy McVeigh DiBiaso (left) came out to meet the activists in front of the Options Center. (Photo : Le Soleil - Paula Dayan-Perez)
Mylène Dionne, a mother of three, was there with McVeigh DiBiaso to defend the organization's work. A few years ago, she asked for the group's help with donations and support when she had her first two children. In 2021, when she became pregnant unintentionally, she consulted the Center when it came to making a decision.
"Never, with that last pregnancy, did I feel like I had to carry it to term," Dionne said. "On the contrary, I personally felt as if I had to keep the baby, but they reassured me by saying that if I wanted to have an abortion, it was a possibility and that it might be something interesting for me. But I was really presented with the three choices in a neutral way."
According to McVeigh DiBiaso, the testimony read at the protest was not an example of the services offered by the Centre. She also wondered about the date in which the reported events took place, since Options changed its administration in 2017 with the intention of becoming more neutral.
Gabrielle Juneau, from the Quartier des Femmes, said the events occurred in the last few months.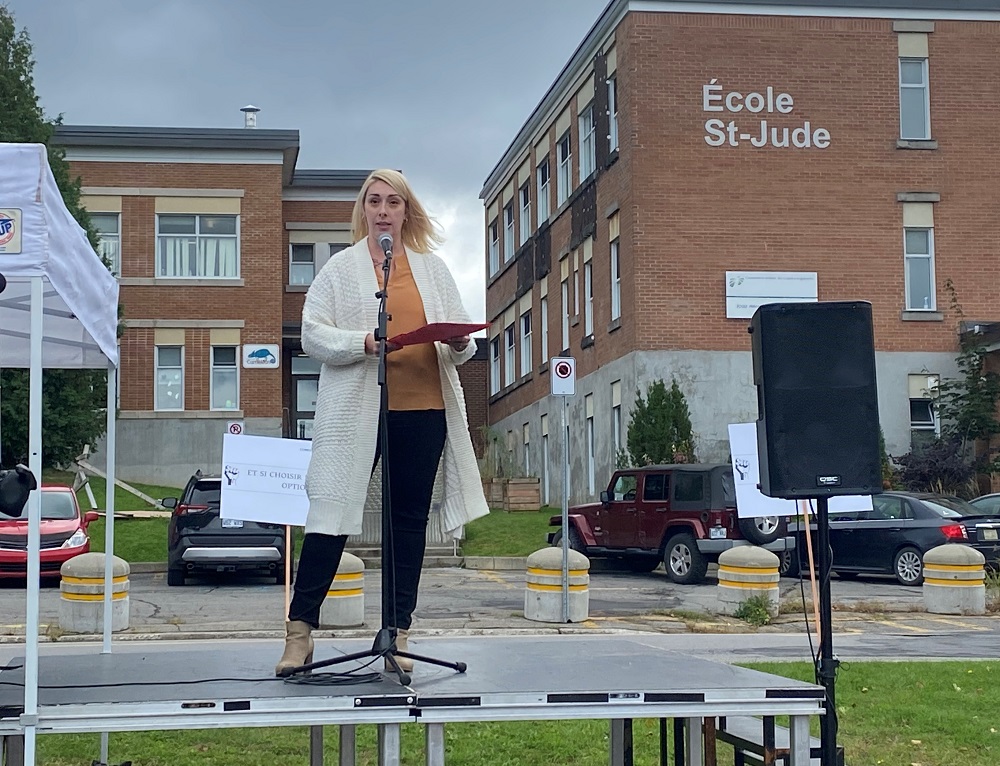 Gabrielle Juneau spoke before the protesters: Quartier des Femmes now offers a support service for women aged 14 and over who are thinking about getting an abortion. (Photo : Le Soleil - Paula Dayan-Perez)
Christian employees only
The Quartier des Femmes' director also questioned the fact that Options openly says on its job offers that it only hires Christians.
In a list of qualifications required to work at Options, the organization indicates that the candidate must be a "committed Christian who demonstrates a vital walk with Jesus Christ as Savior and Lord", according to a job offer posted on Youth Unlimited Montreal's website, which is Option's parent charity organization.
The prospective employee must also "build and maintain personal spiritual vitality, including time dedicated to prayer, Bible study, periodic retreats & receiving spiritual mentoring."
McVeigh DiBiaso confirmed that Options only employs Christian people. She also points out that the organization applies a "holistic" approach, which creates space for dialogue not only about pregnancy or housing, but also about "the spiritual aspect" if clients wish to discuss it.
"Our services are for all but if there is spiritual exploration, we do it through the lens of Christianity, but without pressure. It's 100% people's choice," she said.
What does it mean to create space for spirituality?
"We have just discussion in general," McVeigh DiBiaso answered. "For example, at our Mom Squad group, it might be that I share something about my life and there might be a spiritual aspect about it because I'm a spiritual person. I would say, it's extremely uncommon for a spiritual discussion to take place at our regular Mom Squad group."
She assured that during the first meetings with women who are still undecided about an unplanned pregnancy, the staff does not share their opinions nor personal experiences.
"Even in the pregnancy options support meeting, if someone comes in and is making a decision, in our intake, one of the questions is, 'do you have spiritual beliefs, do you have a faith?' Sometimes, it's interesting to know if a person, even before they become pregnant, had ideas about pregnancy, keeping a pregnancy, adoption or abortion."
Earlier this year, the Options Center announced that it had purchased a former seniors' residence in Châteauguay to convert it into temporary housing for teenagers who are pregnant or already have children. The opening is scheduled for this fall.