English stories
High school students banned from public transport
le jeudi 20 octobre 2022
Modifié à 16 h 17 min le 21 octobre 2022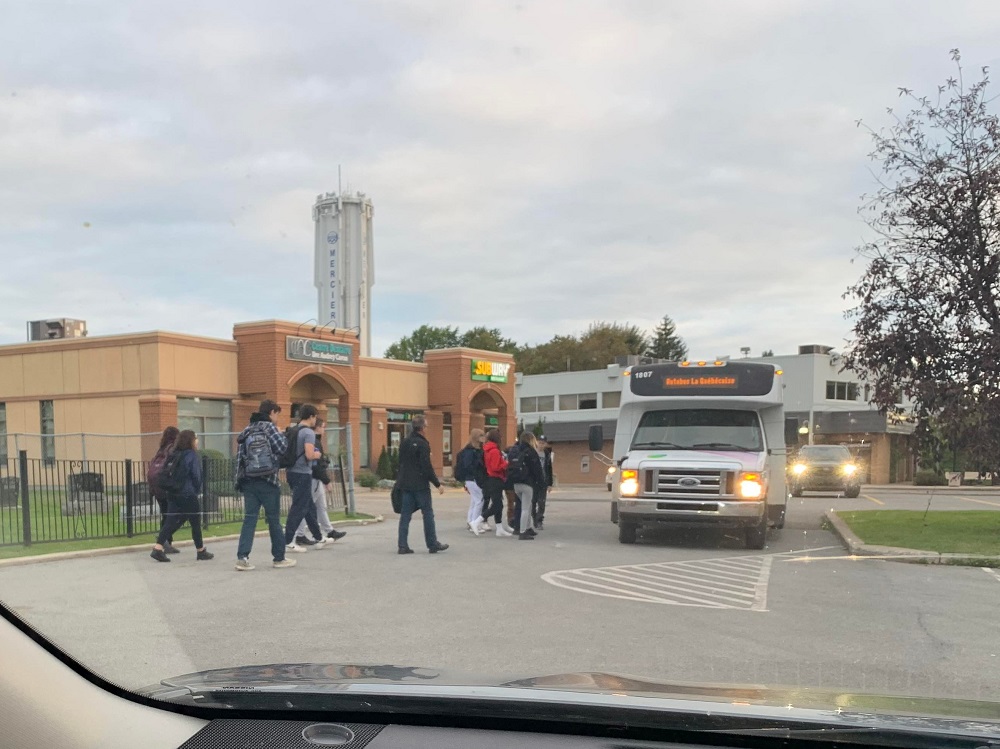 Students from Châteauguay Valley Regional High School (CVR) are no longer accepted on the bus route run by the MRC du Haut-Saint-Laurent since September 30th. While the transport company and the MRC cite misconduct on the part of the students, parents deplore the way the situation was managed.
About twenty students from Châteauguay and Mercier commute to CVR high school in Ormstown every day. Because they attend a school outside their designated zone, the New Frontiers School Board doesn't provide them with school transport. So, teens would take the public bus line running from Mercier to Huntingdon.
Misbehaviour?
The school first made families aware of the transport company's concerns on Friday, September 23rd. In a letter sent to parents, of which Le Soleil de Châteauguay obtained a copy, CVR's administration said that fewer and fewer drivers were agreeing to take this route because of several students' misconduct.
However, on Tuesday September 27th, the school told parents that the transport company La Québécoise and the MRC were going to ban all CVR students from taking the bus. The decision was also based on personnel shortage.
Parents rush to find alternatives
Parents had to find solutions in a matter of days. Some obtained a temporary spot on the school bus leaving from Sainte-Martine offered by the school board for $200. But these places were limited, and priority is given to kids who live in Sainte-Martine. Other families organized carpooling to drive small groups of students.
"It's very frustrating," said Valery Pelletier, whose son is in Secondary 4. "Transportation has been provided for years, whether it was free or paid. There has always been a way to get to school, and now there just isn't. We are not able to talk with the transport company. They hang up the line on us. They refuse to take our messages."
Another parent, who asked to remain anonymous to avoid identifying his son, would like to know why all the students are being punished.
"If there were any kids who were unruly, and we were all teenagers at one point, was it really that bad?" he wondered. "If there were a couple of bad apples, why didn't they take care of those bad apples instead of throwing everybody out?"
The man tried to communicate with MRC Haut-Saint-Laurent's general director without success. It was the receptionist who took the call, he said, and who reportedly answered, "we stand by our decision, we don't have to answer to anybody."
For her part, Isabelle Vermette decided to change her daughter, who is just starting high school, to a school in Châteauguay. She continues to drive her son, in Secondary 5, to CVR every morning and picks him up in the afternoon. The round trip takes between 1:30 to 2 hours, she said, but she wanted her son to finish high school surrounded by his friends at a place "where he had a very, very good experience."
"It's a lot of driving," Vermette said. "With gas prices, it's very expensive, too. And we had initially decided to send our son to that school because there was a bus service."
Le Soleil de Châteauguay asked La Québécoise and the MRC du Haut-Saint-Laurent for further explanation about this decision. We received no response.
Engine problems?
Lynn-Marie Donovan's sons managed to take the bus on October 17th. The driver asked them if they were going to CVR. They said they were going to the hospital instead, which is the next stop after the school, about 1.3 km away. Once they arrived, another student's mother drove them to school.
The teens tried their luck the following day. But when the bus arrived, the driver got out, opened the hood of the bus and announced there was an engine problem, so there would be no service that day, the students' mother told Le Soleil de Châteauguay. She had been waiting for them to get on the bus.
The family got back on the road. Donovan wanted to see if the bus was going to make it to the next stop. "Sure enough, even with his engine trouble, he came along. He slowed down a little bit. There was no sign saying 'out of service'. It seemed like he saw us, and he just continued driving."
She decided to do one last test. Donovan drove to the hospital stop. She told her sons to stay in the car and went to wait for the bus by herself.
"I saw him coming and I went up to the road. He pulled over and he opened the doors. I saw at least one person at the bus," Donovan said, adding that she confronted the driver, who maintained the bus was still out of service.